Proof of item:
It's tough to teach when your students aren't listening. That's why great classroom management is key to any successful classroom.
Think of it as the foundation – it's not really exciting, and it's not the most fun piece of the house to work on, but without it, everything else you build will eventually come crashing down.
So if you're struggling with classroom management, this isn't something you can just ignore and hope it gets better. You have to make changes. You have to figure this out.
And that's why we're here.
Have you ever planned a lesson, poured your heart into it, only to find it completely derailed after three minutes because of the constant interruptions?
Maybe getting your students' attention is starting to feel like Mission Impossible – and we won't even mention about trying to keep it.
Maybe those ah-ha moments are coming fewer and farther between. Your students aren't seeing much success, and you're starting to dread the start of class.
But what if I told you that it doesn't have to be this way? That you can turn things around & get to the point where you love teaching again?
Picture This….
What if you could walk into your classroom, say a quick phrase, & immediately have your students' attention?
How would it feel to teach a lesson without a million interruptions?
What if you could keep your students focused and on task without bending over backwards or going crazy?
It'd be incredible, right?
You'd actually be able to teach, inspire, and make meaningful connections with your kids.
You'd finally be able to enjoy teaching, instead of constantly feeling stressed and frustrated.
You'd be able to make a real difference in your students' lives.
I've Been There
If you're having trouble with classroom management, please know you're not alone.
I sure had trouble my first year of teaching. I thought I knew what to do, but I made some big mistakes, and a few months into the year I had a bit of a mess on my hands. I was frustrated and stressed – this was just not how I envisioned that teaching would be.
Thankfully I didn't stay there. I sought advice and counsel and worked hard to make some serious changes. It took a lot of time, planning, and effort, but over the next year I was able to see tremendous improvement. And what a joy when I finally got to the point where my students were (for the most part) orderly, on-task, and fun to teach.
Why Classroom Management 101?
When I thought back to my own classroom management challenges, I knew I wanted to share the lessons I'd learned with other teachers who were struggling. So I wrote Create Your Dream Classroom and started Teach 4 the Heart. I've loved sharing some of the knowledge and skills I've learned and it's been such a joy to be able to help and encourage other teachers.
But the more I thought about it, the more I realized that classroom management is very nuanced. There's not one magic technique that will correct all your problems. Instead, there are a variety of elements that need to all be in place in order to truly be effective.
I'd shared many lessons on Teach 4 the Heart, but I wanted to put everything in one place. To provide teachers with a complete, organized system that would ensure they had all the tools and training they needed to develop and implement a strong classroom management plan.
And that's when Classroom Management 101 was born.
Classroom Management 101 is here to make sure you don't miss any crucial elements when developing your classroom management plan. It's here to give you everything you need to establish that strong foundation so that you can build an amazing classroom and make a lasting difference in your students' hearts and lives.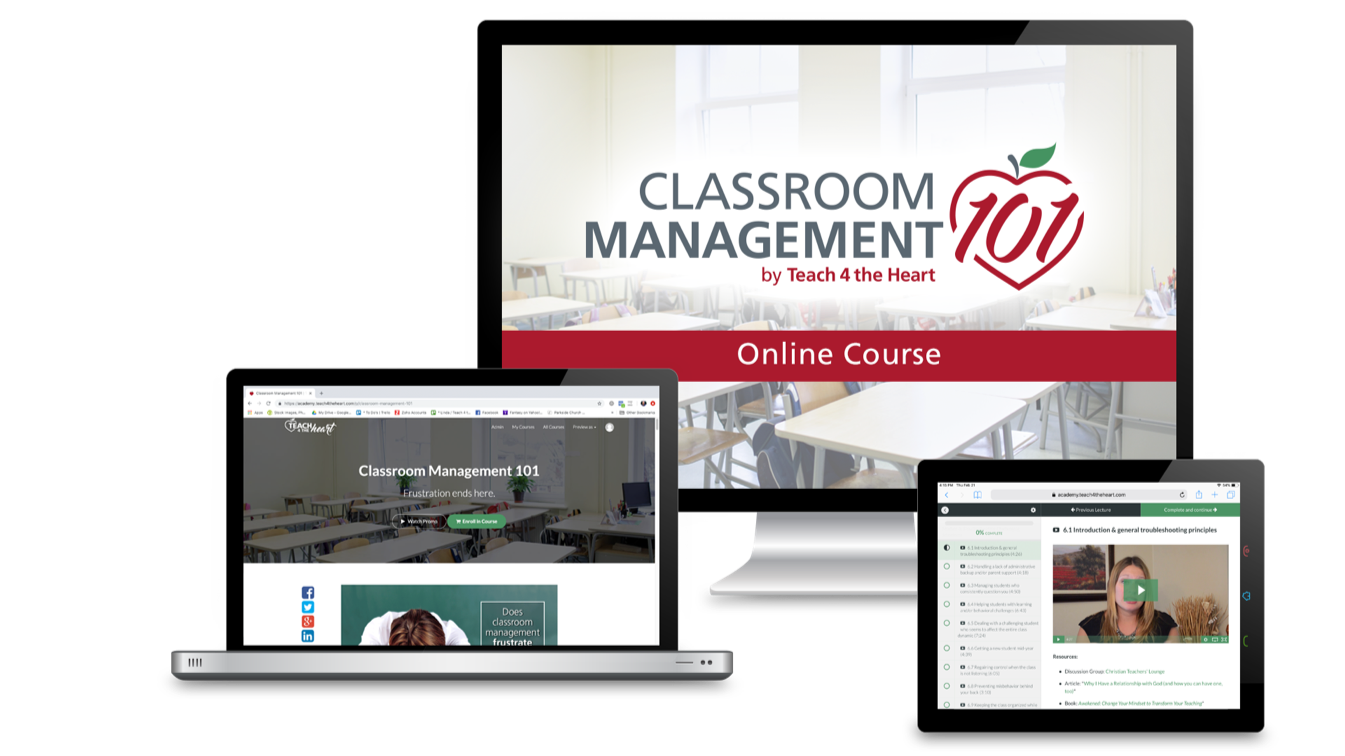 So What's In the Course?
When your enroll in Classroom Management 101, you get…..
The complete, organized system that will walk you step-by-step through the process of developing & implementing a strong classroom management strategy
6 video modules that will help you tackle various problems such as how to address specific classroom issues and how to motivate your students to learn.
Printable manual with additional resources, guides, and notes already taken for you!
The opportunity to network with other teachers by leaving comments or asking questions after each video.
An invitation to join Christian Teachers' Lounge, our Facebook discussion group.
Advice on specific classroom challenges that teachers commonly face.