Proof of item:

The DIY Property Management & Rental Renovation Course
Everything you need to know about managing real estate yourself & maximizing your passive income.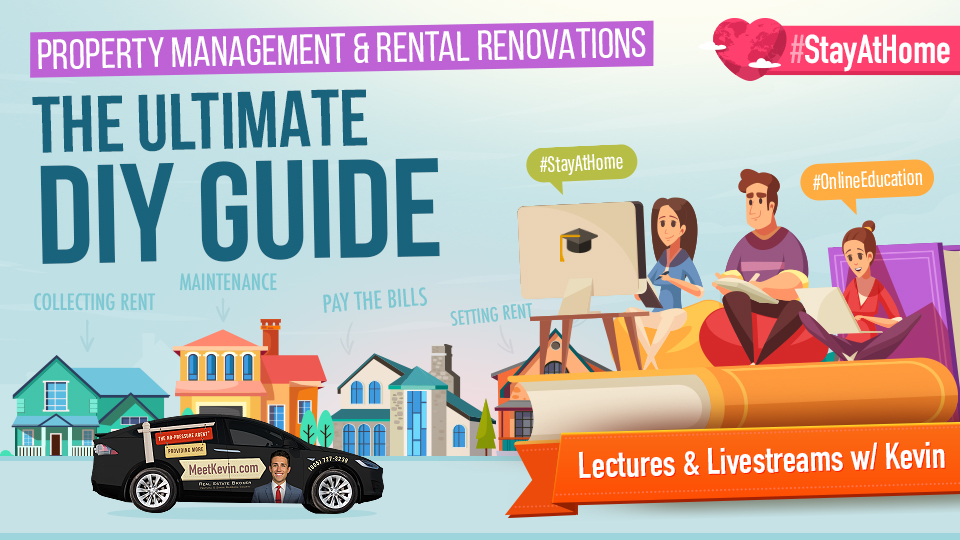 Update 3-26-2020: 70% of the Course is Live. I continue to Add New Lectures Daily though at No Extra Cost to Provide the Most-Thorough Management Course EVER! [Extra Suggestions Welcome too in Discord and I will add]. New Lectures are Releasing Over the next 2 weeks Including: Liability, Insurance, LLCs, Contracts, Addenda, Terms, Maintenance Hacks, Checklists on Maintenance, and More. Note: As more content releases, the price will go up. If you're already a member or join today, all future content is included for free.
Thank you for considering the decision to transform your life and learn the ways of a millionaire Property Manager — Where you Minimize Risk, Maximize Profit, and Eliminate Headache. Also, check with your CPA as this may be a tax-deduction against your business or investments (Kevin is told many deduct this).
Welcome – Is This Right For You?
Meet Kevin teaches the principles and fundamentals of land lording to take you to the next level of property management skill no matter what your experience is:
LIFETIME-ACCESS Video Lectures Benefit you No Matter If:
You rent houses.
You rent apartments.
You rent duplexes, triplexes, or 4-plexes.
You want ROI tips for Flips and Renovations.
You rent larger apartment buildings with tenant-paid, on-site managers.
You do NOT have to be licensed.
You Speak English.
[Heads Up: This is NOT a Vacation-Rental Course]
Meet Kevin's Mission Statement:
Teach the specific mechanics and psychology of dealing with and managing tenants, contractors and properties.
Get The DIY Property Management & Rental Renovation Course
What You Get:
Daily (Market Open), Private Group Livestreams with Kevin (AKA mentoring through 2020 guaranteed).
Online Video Lectures.
Lifetime Access to Recorded Lectures.
Sample Lease Contracts with Kevin Reviewing Important Terms [Samples Only; Contracts Vary by City/State].
Role Play from Lauren and Connie (Both Professional Property Managers with 10 and 30 years in management, respectively).
Discord Chat Group [Suggestions for more content? Bring it!]
Rental Renovations Guide, Tips, Tricks, and Individualized Content for Each Potential Renovation or Issue.
Insurance Tricks.
Liability Protection & LLCs.
LIVE Remodel Cheat Sheet (Live Sheets that I can Update on the Fly with Updated Information, Products, and Recommendations].
Fair Housing.
Preventing Evictions.
Advertising, Screening, Photography, Placement.
Inspections.
What-If Scenarios.
And much, much more. New content added every week in 2020 to increase the amazingness of the course (included).
Pricing: As more content is added, the price will increase.
Curriculum (Many More Are Being Added Overtime):
[Expand Curriculum Below; Since I Keep Adding More, I'm not listing it all on this text box just yet — I keep adding so many!
Lifetime Access.
Increasing your Cashflow.
You owe yourself maximum profit and the most stress-free landlord experience.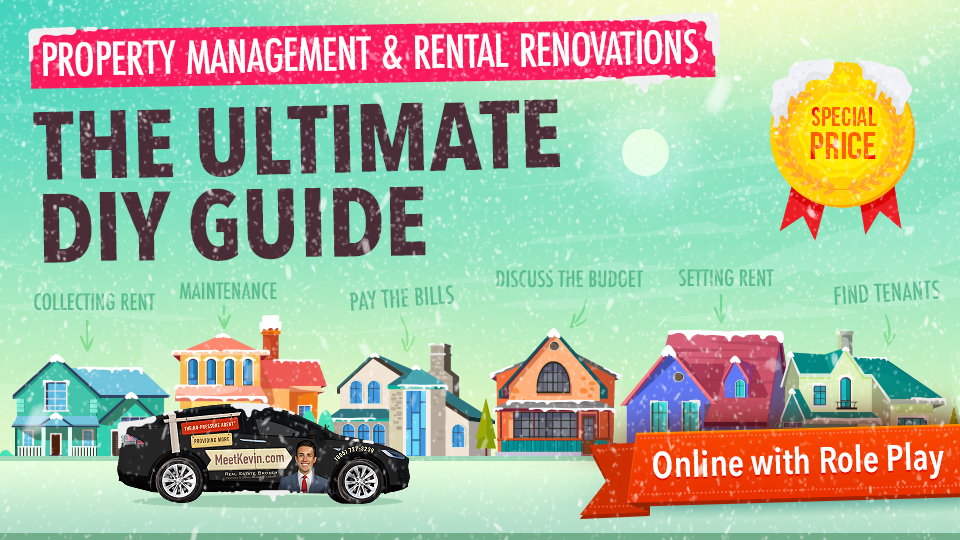 Course Curriculum
March-April 2020 *New Lectures Coming*
Heads Up for March 2020 New Lectures (1:23)
Save 11.9%-25% REGULARLY at Lowes [Step by Step] [Cheat Sheet Attached] (6:35)
How to Renovate in a Recession, Crisis, or Outbreak (Differently) [Quick Cheat Sheet] (2:49)
Adding a Guest Unit or Big Remodel During Crisis, Recession, or Outbreak (1:06)
Pricing a Rental in a Recession, Crisis, or Outbreak (2:11)
Sections 1: Chat, 'Live Sheets', Getting Started, & Free Coffee.
***HEADS UP READ FIRST March 31, 2020****
1.0: Guide to Discord. (7:20)
1.1: Course Bonus — LIVE CHEAT SHEETS for Renovations & Management! (1:44)
1.2: Our Promise. Zero-Eviction Background, The Mission, & 80s *vs* Today's Management. (3:08)
1.3: Three Steps for Maximizing this Course. (1:21)
1.4: Mentoring & Help from Us. (1:35)
1.5: Legal Disclaimer & State Laws (VERY Important Option for You). (1:31)
1.6: **The URGENT FREE COFFEE: Tool for Mistakes Errors or Missing Info in the Course** (0:35)
Section 2: Tenant Leverage: Your Tool for Minimizing Stress & Problems.
2.1: What is Tenant Leverage (is it Evil or Necessary?). The Arnold Rule. (2:28)
2.2: The DANGER of NO Leverage. 4 BEST Types of Tenant Leverage (Super Important). (4:15)
2.3: Weakest Forms of Tenant Leverage & The School Rule for Lasting Leverage. (3:15)
2.4: Pitfall of Inspecting a Tenant's CURRENT Property (Prior to Moving into Yours). (1:34)
2.5: Pitfall of Advanced Payment of Rent. (1:49)
2.6: Pitfall of Higher Rent & Security. (1:55)
2.7: The Reality of Co-signers. (1:54)
2.8: Unequal Leverage (Husband & Wife or Partners). (3:14)
2.9: Disclaimer on Credit – IT'S NOT ONLY ABOUT CREDIT. (0:14)
2.10: Extremely Important Psychological Leverage You Have & Contract Enforcement. (9:55)
2.11: The Prideful Landlord & DANGER. (1:25)
2.12: How the Property Provides Tenant Leverage. (2:49)
2.13: The Most-Basic Form of Tenant Leverage & "Incentives" for Rentals. (1:18)
2.14: Bonus Tenant Leverage Incentive 1: Rent Rate & Anti-Leverage. (1:41)
2.15: Bonus Tenant Leverage Incentive 2: Amenities & Pets. (2:06)
2.16: Bonus vs Core Tenant Leverage. (0:33)
2.17: Living Out Security Deposit. (1:19)
Sections 3: Inside the Minds of Tenants.
3.1: The Tenant's Mindset of YOU Before they Meet You (The Scam Fear). (1:29)
3.2: Overqualified Tenants who 'Would just Buy' vs The Goal Tenant? (Special Leverage). (3:27)
3.3: Your First Impression to the Tenant (How should you Act?) Winning Tenants. (2:45)
3.4: Building Rapport with Prospective Tenants & Neighbors (What should you Say?). (5:54)
3.5: Behavior & Clues of an Unqualified Tenant, Denying Them, & Recession. (11:26)
3.6: Words & Lines of a Bad Applicant or Prospective Tenant. (4:31)
3.7: Non-Leverage Tenant Excuses *WITH EXCEPTIONS.* (6:36)
3.8: The Behavior of a Qualified Tenant. (1:11)
3.9: When to Trust your Gut Feeling & Rules. (2:53)
3.10: How Qualified Tenants vs Unqualified Treat Rentals. (4:04)
Section 4: Inside the Mind of a Landlord.
4.1: The Ideal Tenant & Anti Leverage & Note on Mildew. (2:46)
4.2: The Ideal Leveraged Tenant: What to Do if "Credit" Isn't Used In your Area — Is there More to It? (2:34)
4.3: NEVER Rent to THESE Tenants. (2:27)
4.4: Connie's Perspective on Documenting Conversations. (1:20)
4.5: Presenting Yourself as a Landlord & Relating. (2:14)
4.6: Documenting Conversations: Non-Emailed. (2:30)
4.7: Documenting Conversations: What does it Look like in COURT: Planting a Garden Scenario. (2:33)
4.8: Documenting Conversations: Convert Documentation & Common Non-Emergencies (That Seem Like Emergencies). (2:52)
4.9: Documenting Conversations: Actually Emergency & Insurance Loophole DANGER. (2:42)
4.10: Documenting Conversations: TRAINING & Regular Repair. Plumbing Leak. (2:57)
4.11: Documenting Conversations: Contractual Change: Adding Roommate or Pet. (1:59)
4.12: Documenting Conversations: ALWAYS Ask for THESE 2 Things via Email. (1:43)
4.13: Documenting Conversations: Dealing with Text Messages & AMAZON HACK. (2:21)
4.14: Documenting Conversations: NEVER DO THIS. WITH EMAILS. (0:38)
4.15: Documenting Conversations: Applicants & No Email & Court: IF It Wasn't Documented. (4:24)
4.16: Documenting Conversations: NEVER Document like this UNLESS you do this OR use This Software. (1:44)
Section 5: The Ideal Rental Property [The 6 Levels, Type, Remodeling, Repairs].
5.1 [PLACEHOLDER] The Anti-Yeah But.
5.2: Location within City & Streets. (1:43)
5.3: Location within Neighborhood. (0:55)
5.4: Best Floor: Townhouses & Condos. (1:27)
5.5: Competing with Massive Apartment Complexes. (2:25)
5.6: Garage Space & Advertising ADUs. (0:49)
5.7: The BEST "AGE" of Property. (2:00)
5.8: Apartment Buildings & Neighboring Dogs & Noise. (1:45)
5.9: Homogeneity & ABCD Neighborhoods: The DANGER of CD & Inconsistent. (5:06)
5.10: Effect of Detached Guest Unit on Single Family Rent. (2:18)
5.11: Slumlord vs Professional Landlord. (1:59)
5.12: Tri-Level vs 2-Story. (1:08)
5.13: Shopping within an HOA. (2:42)
5.14: The 6 Levels of Remodels and BEST ROI Levels. (9:13)
5.15: ROI Renovation Danger. (4:38)
5.16: The Danger of Contractors [I was One]. (5:43)
5.17: The Danger of Fear in Construction LOSES YOU MONEY. (3:04)
5.18: The Easiest Property to EVER Renovate. (1:08)
5.19: Renovating your Home: Ground Zero. (2:48)
5.20: The "So I Don't Have to Later" Remodel and Perfection (4:32)
5.21: After Tour: Level 1 Remodel. (4:36)
5.22: After Tour: Level 2 Remodel. (3:57)
5.23: After Tour: Level 3 Remodel. (3:52)
5.24: Before Tour: Level 3-4 Remodel. (9:46)
5.25: After Tour: Level 3-4 Remodel. (8:21)
Get The DIY Property Management & Rental Renovation Course 
Section 6: Rental Renovations & The Uniform [With LIVE UPDATING Cheat Sheet Downloads] [More Sheets In Production]
6.1: The Uniform: Why Not LEAVE Properties as is? Why Bother Renovating? (1:36)
6.2: Walkthrough: Kevin's Teardown of a House's Uniform & Uniform Checkup. (6:15)
6.3: Walkthrough: Connie Teardown of a House's Uniform: Prep for Renting Part 1. (25:04)
6.4: Walkthrough: Connie Teardown of a House's Uniform: Prep for Renting Part 2. (10:14)
6.5: Walkthrough: Connie Teardown of a House's Uniform: Prep for Renting Part 3. (1:42)
6.6: Rental Grade vs Over-Improved with Roof Example. (3:26)
6.7: Things I Keep in my Car. (1:35)
6.8: Walkthrough: Connie Teardown of a DIFFERENT House's Uniform: Prep for Renting. (11:49)
6.9: Walkthrough FULL Renovation Plan [Fixer House]. (21:15)
6.10: Landscaping Photo Prep & Sprinklers. (0:45)
6.11: Walkthrough Kevin's Teardown of a House's Uniform: Prep for Renting. (8:35)
6.12: The Two Rules for a STRESS-FREE Life in Real Estate. (2:39)
6.13: Should you Repair Minor Damage like Garage Door? (1:36)
6.14: The "Standard Test." (1:03)
6.15: Scaling with the Same Decisions Each Deal. (1:12)
6.16: Staging and Virtual Staging. (2:25)
6.17: The Model Home Cheat. (0:57)
Renovations: The Uniform: Air Conditioning. (1:05)
Renovations: The Uniform: Alarms & Cameras & Phraseology. (2:35)
Renovations: The Uniform: Appliance ROI Decision & Liability. (8:01)
Renovations: The Uniform: Baseboards, Quarter-Round, & Vinyl. (3:46)
Renovations: The Uniform: Baseboards [In-Person] with LIVE Cheat Sheet. (1:02)
Renovations: The Uniform: Blinds & Shades (3:12)
Renovations: The Uniform: Blinds IN PERSON. (1:02)
Renovations: The Uniform: Carpet Trifecta with LIVE Cheat Sheet. (1:33)
Renovations: The Uniform: Cabinets (3:43)
Renovations: The Uniform: Code: Easy Tip for PROTECTING from CODE ISSUES! (2:39)
Renovations: The Uniform: Concrete [and LIVE Cheat Sheet] (3:02)
Renovations: The Uniform: Closet Doors. (0:38)
Renovations: The Uniform: Doors & Closet Doors [In Person]. (1:25)
Renovations: The Uniform: Door Stops. The Good Kind Example. (0:20)
Renovations: The Uniform: Exterior Paint Colors WITH REAL EXAMPLES [and LIVE Cheat Sheet.]. (7:03)
Renovations: The Uniform: Exterior Painting: Lauren's Drive-By Commentary. (12:44)
Renovations: The Uniform: Exterior Paint (Often Forgotten). (0:11)
Renovations: The Uniform: Fireplace Painting. (1:50)
Renovations: The Uniform: Flooring – Kevin's Favorite. (3:19)
Renovations: The Uniform: Garbage Disposals. (0:35)
Renovations: The Uniform: Grass vs Artificial Grass. (2:19)
Renovations: The Uniform: Hardware Consistency & Bathroom Consideration. (0:33)
Renovations: The Uniform: Kitchen Cabinetry, Warning, and Oak. (2:50)
Renovations: The Uniform: Kitchen Hardware. (1:21)
Renovations: The Uniform: Landscaping [CHEAT SHEET]
Renovations: The Uniform: Lights and Fans (6:11)
Renovations: The Uniform: Linoleum & 3D Example [Live Cheat Sheet] (1:41)
Renovations: The Uniform: Lock: Upside Down Cylinders for Door Locks [Cheat Link] (0:36)
Renovations: The Uniform: Medicine Cabinets. (0:32)
Renovations: The Uniform: Outlets & Switches. (1:55)
Renovations: The Uniform: Outlets [2-Prong] & NEC Code. (3:46)
Renovations: The Uniform: Patio Covers. (1:31)
Renovations: The Uniform: Paint: Eaves vs Wall Color (1:17)
Renovations: The Uniform: Paint: Interior WARNING about BLOW AND GO. (2:41)
Renovations: The Uniform: Paint: Interior Colors. (4:44)
Renovations: The Uniform: Paint: Sheens (Color Shine) for Exteriors. (0:37)
Renovations: The Uniform: Plumbing Finishes. (2:09)
Renovations: The Uniform: Roses (0:31)
Renovations: The Uniform: Sunrooms (0:51)
Renovations: The Uniform: Tiling Floors (Warning) (0:52)
Renovations: The Uniform: Toilets. (2:17)
Renovations: The Uniform: Tubs & Showers. (2:09)
Renovations: The Uniform: Vanities – The 3 Choices. (4:19)
Renovations: The Uniform: Vanity Mirrors. (0:42)
Cheat Sheet: [Live] 2-Prong Outlet Conversion – Cheat Sheet – Meet Kevin – Updated 3-11-2020
Cheat Sheet: [Live] AFTER CLOSING Cheat Sheet – Meet Kevin – Updated 3-11-2020
Cheat Sheet: [Live] Appliances – Cheat Sheet – Meet Kevin – Updated 3-11-2020
Cheat Sheet: [Live] Baseboard & Trim Molding Cheat Sheet – Meet Kevin – Updated 3-12-2020
Cheat Sheet: [Live] Basic Maintenance Cheat Sheet – Meet Kevin – Updated 3-11-2020
Cheat Sheet: [Live] Blinds & Windows Cheat Sheet – Meet Kevin – Updated 3-12-2020
Cheat Sheet: [Live] Cabinet Hardware Cheat Sheet – Meet Kevin – Updated 3-11-2020
Cheat Sheet: [Live] Cabinets (Old, Refurb, Contractor, Custom, & Ikea) Cheat Sheet – Meet Kevin – Updated 3-18-2020
Cheat Sheet: [Live] Carpet Cheat Sheet – Meet Kevin – Updated 3-12-2020
Cheat Sheet: [Live] Complete General Contractor 'Kevin Special' Cheat Sheet – Meet Kevin – Updated 3-11-2020
Cheat Sheet: [Live] Concrete, Pavers, Hardscaping Cheat Sheet – Meet Kevin – Updated 3-12-2020
Cheat Sheet: [Live] Door Hardware Cheat Sheet – Meet Kevin – Updated 3-12-2020
Cheat Sheet: [Live] Drywall & Texture Work Cheat Sheet – Meet Kevin Updated 3-12-2020
Cheat Sheet: [Live] Exterior Light Fixtures Cheat Sheet – Meet Kevin – Updated 3-12-2020
Cheat Sheet: [Live] Exterior Painting Cheat Sheet – Meet Kevin – Updated 3-12-2020
Cheat Sheet: [Live] Fence Cheat Sheet – Meet Kevin – Updated 3-12-2020t
Cheat Sheet: [Live] Insulation Cheat Sheet – Meet Kevin 3-12-2020
Cheat Sheet: [Live] Interior Light Fixtures Cheat Sheet – Meet Kevin 3-12-2020
Cheat Sheet: [Live] Interior Painting Cheat Sheet – Meet Kevin – 3-12-2020
Cheat Sheet: [Live] Inventory in Car Cheat Sheet – Meet Kevin – 3-12-2020
Cheat Sheet: [Live] Landscaping Cheat Sheet – Meet Kevin – Updated 3-12-2020
Cheat Sheet: [Live] Linoleum Cheat Sheet – Meet Kevin – Updated 3-12-2020
Cheat Sheet: [Live] Plank & Hardwood Floor Cheat Sheet – Meet Kevin – Updated 3-12-2020
Cheat Sheet: [Live] Plumbing & Bath Hardware Cheat Sheet – Meet Kevin – Updated 3-12-2020
Cheat Sheet: [Live] PRIOR TO Closing – Cheat Sheet – Meet Kevin – Updated 3-11-2020
Cheat Sheet: [Live] Renter's Insurance Cheat Sheet – Meet Kevin – Updated 3-12-2020
Cheat Sheet: [Live] Scraping Ceilings & Asbestos Testing Cheat Sheet – Meet Kevin – Updated 3-12-2020
Cheat Sheet: [Live] Termites, Wood, & Lumber IMPORTANT Cheat Sheet – Meet Kevin – Updated 3-12-2020