Proof of item:

Your Wolf-Coyote Pack Leader Caroline W. Casey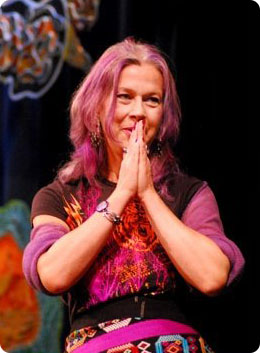 Caroline invites us to move our emotional default setting to "Woof*Woof*Wanna-Play?!"… that we may be agents of evolutionary genius.
Caroline has studied in many Mystery Schools, including the Astrological Lodge of London; earned a BA from Brown University in Myth, Fairy Tales and World Religions; studied Grail Legend with late, great mythologist Joseph Campbell; and cahooted with late Jungian Trickster James Hillman.
She presents her unique art of astro*mythological* political*guiding*meta-storytelling in multi-media venues and personalized readings.
In this journey, we'll weave together our customized protective cloak of guiding earth-sky wisdom from myths, fairy tales, astrology, detective novels, poetry, and biomimicry (that's where Nature's genius comes in!) that we each create a cloak of guiding Heaven-Earth Wisdom.
Matthew Arnold says: "To be cultured is to be acquainted with the highest possibilities of the human spirit throughout time."
Let's be cultured humans.
During Liberating the Zodiac Within & Without, you'll:
Understand myths and Zodiacal signs as big forces of Guiding Intelligence with which you can co-operate
Liberate laughter-cultivating play and laughter (we are meant to be a laughing species)
Learn to engage with the mythic forces at play, making you a more savvy agent of influence
Receive inspirational guidance from the animals with which we feel most affinity
Find and express your inner Hermes Messenger/Magician
Learn to use the invocative power of language — "invoke" means literally "to call in" or "to give voice"
Explore and change what our culture encourages or discourages in women and men
Define leadership, as derived from the many models proffered by Nature
Receive practices to expand the playfulness of your mind and engage with the world with wit and whimsy
Explore practices that liberate your soul from old habits and opens you to a zestier experience of life
Do practice exercises that allow you to have refined nervous systems, capable of enhanced superconductivity, without fraying your circuits
This is no time for any of us to be alone!
Gather with a global community of allies — all magnetizing, cultivating, animating, and contributing their considerable gifts in a way that replenishes everyone.
Greater Connection Through Live Streaming Video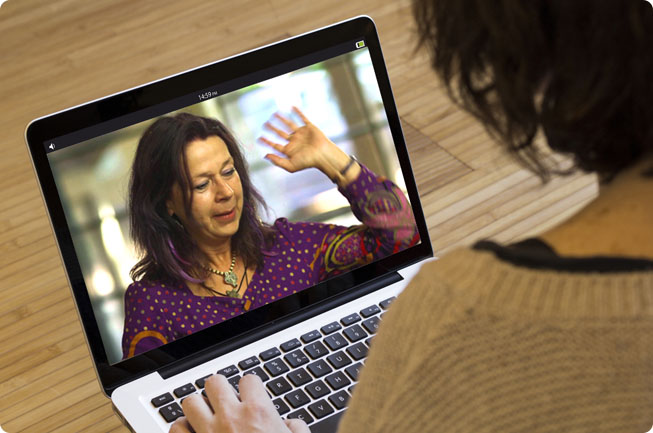 Caroline will be live streaming video of her teaching sessions so you can have an even more powerful connection and transmission. This live video connection is easy to use and increases your learning and transformation.
Together we'll…
Rejoin in collaborative cahoots
Harness this auspicious time to create our metaphoric templates, gather to do actual magic as visionary activist astro*mytho* cultural leaders
Engage in personal and collective salvation… collectively in cahoots, to access the powerful magic that comes in dangerous times
What You'll Discover in These 12 Weeks
Course sessions are on Tuesdays at 5:00pm Pacific.
In this 12-week transformational program, Caroline will guide you through the fundamental skills and practices you need to engage astrology in a deeper and more liberating way.
Each weekly LIVE contemplation and training session will build harmoniously upon the previous ones so you'll develop a complete holistic understanding of the practices, tools, and principles you'll need to sustain your access to astrology as a portal into new realms of freedom, fun, and magnetizing mojo into matter.
In each of the 12 weeks of the course, we'll animate a Zodiacal sign, so on January 30 we begin with Aries, (even though the Sun is in Aquarius — perfect for convening our council of Pragmatic Mystics) Aries is where Uranus, Nature's evolutionary genius be transiting… We're creating a field supportive of everyone's unique Trickster.
Council 1: Aries (January 30)
Accessing the Green Fire of Woof! That Animates Creation (Birth Dates March 21 ~ April 21 • Ruled by Mars • The Ram)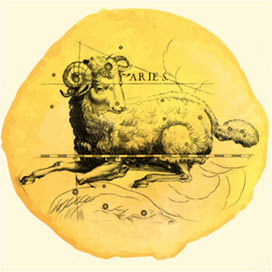 The Great Wheel of the Zodiac begins with Aries, on the first day of spring, the vernal equinox. Aries answers the question, "What kind of energy does it take to be born in spring?" The answer is Mars energy — heat, dynamism, adolescent bravado. Green Fire!
Aries is the Ram, butting its way into whatever seems exciting. In order to be successfully intrusive, an Aries must learn the Libran skills of charm, including how to flirt and how to challenge others diplomatically.
Fundamentally, Aries is the hero or Heroine who follows the Path of Desire.
We all have Aries somewhere in our charts, and the Sun sign Aries helps to stimulate that exuberant, full-on, confident embrace of life.
And we have learned from recent entheo research that psilocybe mushrooms decrease fearful reactivity, and increase confidence and kindness — which are great leadership qualities…
We'll begin by:
Animating (honoring the soul) the qualities of our ideal inner heroine/hero "The hero with a thousand faces," is a great guiding book
Gathering our woof to begin those things we ' ve been meaning to do for ages… "Let's go, let's go!"
Receiving inspirational guidance from the animals with which we feel most affinity
Council 2: Taurus
 (February 6)
We Are All Intrinsically Animistic, Everything Is Alive (Birth Dates April 21 ~ May 21 • Ruled by Venus)
The first of the fixed signs, Taurus' purpose is to harness and consolidate the wild energy of Aries by providing it with a vessel in which to take form. As Venus incarnates through those born in late April to late May, she encourages cooperation in the conspiracy for ever-increasing pleasure.
In the Venusian Taurus world, there is no split between the material world and the spiritual. Rather, when we make something beautiful, we invite the invisible magic represented by Taurus' opposite sign of Scorpio to come live there.
Taurus is the best of all the signs at acquiring and consolidating wealth by cultivating all available resources.
Taureans flourish by understanding that tending, caring, nurturing, and mating are their true tasks.
We'll:
Cultivate Democratic Animism (and find out what the hell that means) — Collaborative wheel and deal spirituality, as Coyote gudes us
Make altars to magnetize the desirable
Engage in dedicated acts of Beauty invite power into the world
Animate our Wise Money Animal, whom we can send out to bring back opportunities for wealth, however we choose to define wealth (includes, but is not limited to — money)
Discover animal fables throughout time
Council 3: Gemini
(February 13)
We Become Messengers for What We Love (Birth Dates May 21 ~ June 21 • Ruled by Mercury • The Twins)
The wing-footed Trickster and messenger god Mercury incarnates through those born from late May to late June. The first of the Air signs, Gemini emerges from the heavens of Taurus with a desire to soar into the lighter, more spontaneous world of abstraction, concepts, and open-ended plans.
Geminis are in love with words, language, ideas for the sake of ideas. They are considered poets, bards, and storytellers, but not the philosophers (who are found in the opposite sign of Sagittarius).
Geminis serve the function of nerve synapses in the culture, connecting and coordinating disparate parties by facilitating information flow. The symbol for Gemini is the Twins, of two minds about everything.
Geminis are communicators; their choice is whether to apply their gift to waffling, wit, or wisdom. To talk, to say, to name is to invoke. Wherever Gemini is in our charts is where we are assigned the task of understanding the magically creative power of words.
We'll:
Embark on serious play with the power of language — "The world will converse with us in whatever language we cultivate"
Participate in call and response, to discover what wants us to be its messenger
Do practice exercises that allow us to have refined nervous systems, capable of enhanced superconductivity, without fraying our circuits
Council 4: Cancer
 (February 20)
We Ally With Big Momma to Protect What We Love (Birth Dates June 21 ~ July 21 • Ruled by the Moon • The Crab)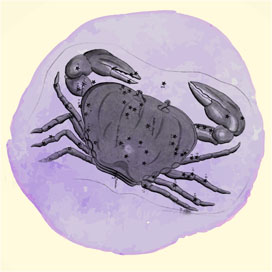 The Moon incarnates through those born from late June to late July. Cancer begins on the summer solstice, the longest day and shortest night, which is the consummation of a journey that began on the winter solstice, the longest night and short day.
The Cancerian feminine force responds to Gemini's extended romp. The nights begin to grow longer and Cancer's lunar tide pulls everything into the womb, to home, to family.
The Moon's phases reveal the manifold manifestations of Cancer as the Great Mother: nurturer, protector, devourer. Indeed, every aspect of your relationship with your own mother will in some way be played out in your relationship with Cancers. Cancers are everyone's surrogate mom, and everyone's surrogate child.
Cancer is the Crab who lives in the sea, which is ruled by the Moon — oceanic, menstrual, emotional, the mistress of all tides. Together, the Moon and Cancer rule all growing life, natural cycles, shifting tides, introversion, and brooding — in both senses of the word. All living things incubate in their own watery sac, their personal ocean; they emerge into a larger one.
We'll:
Investigate our relationships with all Great Mothers in our lives
Understand our actual Mothers, as research projects, exemplars of what does our culture encourage or discourage in women throughout time
Explore what our culture encourages or discourages in women, and how we may break those spells and take new more expansive vows
Council 5: Leo
 (February 27)
Creativity & Celebration Abounding (Birth Dates July 21 ~ August 21 • Ruled by the Sun • The Lion)
The Sun seeks its most radiant expression in this time of year and in those born in late July through late August. Leo is the child who bursts forth from the confines of Cancerian gestation. In Leo's passionate theater of life, pageantry and ceremony celebrate everything born of love, whether offspring of the heart, the mind, the body, or the spirit.
Leo is both "fixed" and "fiery," adamant and impulsive, and always emphatic. Creative certainty, absolute edicts, and provocative proclamations are its basic modes of expression.
Leo's job is to produce, direct, present, and stage life's richness. The pitfall can lie in its singular vision of what is important now.
Like Taurus, Leo is fixed and wants to leave a structure behind, a really great show against which the creatives efforts of all others will be measured. Like the other Fire sign, Aries, Leos are leaders.
Mature Leos understand that the creative energy they emanate does not originate with them, but flows through them. The flory that enlightened Leos seek is not for the aggrandizement of the struggling child ego. Rather, it is an offering to ignite the spark of the marvelous in all of us.
We'll:
Create theatre or live melodrama — cultivating creative theatre and the art of ritual
Be willing to be agents of illuminating what is hidden
Liberate laughter-cultivating play and laughter (we are meant to be a laughing species)
Curate a festival of humor
Council 6: Virgo
(March 6)
Let Us All Be Medicine Women & Men (Birth Dates August 21 ~ September 21 • Ruled by Mercury • The Sphinx & the Virgin With Sheaves of Wheat)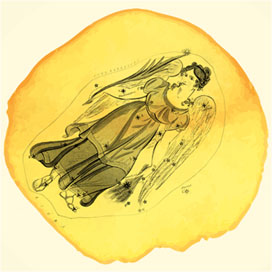 Here we have the mercurial mind in its analytical incarnation. Where the Gemini incarnation of Mercury was excitedly diffuse, Mercury's expression through Virgo is polished and focused.
Traditionally, Virgo is the critic, the analyst, the healer who cures society's ills by reintroducing the standards of quality and purity into the culture.
When the symbolism of the Virgin first arose, the attribute of virginity has less to do with chastity than with the idea of a woman in full possession of herself, an oracle, a priestess, or a muse. The sheaves of wheat are emblems of disciplined sexuality that also refer to the abundant harvest that must be sorted and refined at this time of year. The poignant wafts of autumn air remind the Virgo that all must be put in order for the approaching winter. Virgo appreciates both the beauty and the necessity of order.
Virgo's task is to harness its attention to detail, and its consequent critical insight, to the sense of service and healing proffered by its opposite sign, Pisces. Then pragmatism can wed with mysticism.
We'll:
Cultivate discernment (Whoa! so important) activating our bogus detector
Allow small things tell big stories
Cultivate linguistic eloquence
Find and express our inner Hermes Messenger/Magician
Learn to use the invocative power of language — "invoke" means literally "to call in" or "to give voice"