Proof of item:
Your Unfolding Qigong Journey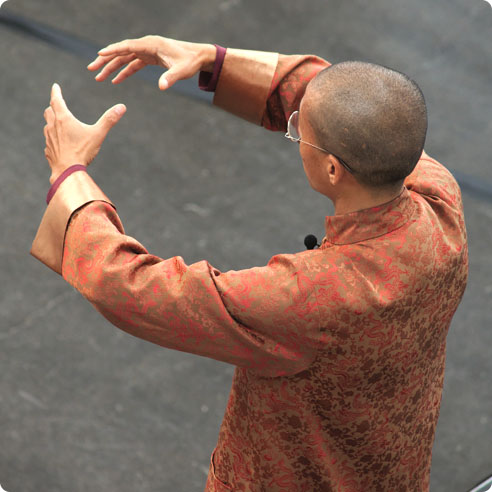 In the first week, you'll be given a video in which Master Gu demonstrates how to begin to awaken your happy heart. Each subsequent week you'll progress, with Master Gu's guidance, through Qigong's physical, mental, emotional and spiritual dimensions.
Through video, audio and text teachings and tools, you'll have everything you need to start and develop a personal daily practice to cultivate a happy heart and a deep sense of inner joy. Your personal practice is further supported by video/audio practice sessions and materials available 24/7 at the class portal.
Your daily Qigong practice can also help release stress, strengthen body resilience and posture, increase mental clarity, and awaken awareness of self and others.
So you can take your learning and practice even deeper, you can ask Master Gu whatever questions you have anytime throughout the course. Master Gu will answer your submitted questions in the Q&A sessions at the end of each class and answers to common questions will also be posted to your Course Homepage.
No prior experience with Qigong or energy practices is needed to participate in this course. Wisdom Healing Qigong is suitable for all ages and abilities and can be done sitting, standing or lying down. It is also highly compatible with other energy practices such as yoga, tai chi, acupuncture and meditative practices. Comfortable clothes are recommended, but special exercise clothes or mats are not needed.
Who Is This Course For?
This course is ideal for those who would like to move their lives into joy and health while releasing stress and exhaustion, low energy and worry, and blocked creativity and overwhelm. In short, if you…
Are open to adding more energy, creativity and vitality to your daily life
Would like to release old habits and patterns that compromise health, joy and a sense of community
Have difficulty falling asleep or are chronically tired
Are inspired to contribute to self and the world, but find your energy is low or unfocused
Want to adopt a heart-centered approach to resolving challenges at work, at home and in your relationships
Do yoga or meditation and would like to experience the teachings of Qigong movement and meditation
Wish to support happier relationships in your home and work life
Are tired of feeling drained emotionally or physically and want to feel more resilient in body, mind and heart
Feel anxious about an injury or chronic or acute illness that would benefit from more energy for healing
Want to begin doing a daily practice that cultivates joy, serenity and hope
Would like to discover how to transform stress and worry into healing emotions
Want to improve your posture and flexibility of your back and body
Feel depressed and worried, and would like to experience more happiness
Would like to meet a community of like-minded people who are striving to better themselves and the world
Are open to discovering how to rekindle and express compassion for all beings
Would like to know how to boost your immune system and reduce stress
Are a parent, caretaker or helping professional — such as an acupuncturist, nurse or therapist — and would welcome new tools for bringing more balance and resilience into your care for others
Join us for a healing and illuminating journey with one of the world's most esteemed Qigong masters — and receive practices you can use and enjoy for a lifetime!
What You'll Discover in These 7 Weeks
Course sessions are on Tuesdays at 5:00pm Pacific.
During the 7-week program, Master Mingtong Gu will joyfully guide you through the role of Qi energy and how to connect heart, mind and body to cultivate abundant Qi flow for your health, healing and daily life. Master Gu has selected Wisdom Healing Qigong teachings focused on cultivating a happy heart, and will guide you in the steps to explore this powerful Qigong lineage and to create your own Qigong practice for energy abundance.
Each weekly class session will build harmoniously upon the next and will include a video presentation by Mingtong Gu featuring the teachings, demonstrations, and/or guided movements, meditations and visualizations for that week. You can practice along with Master Gu as he demonstrates these practices and return to the recorded version when the class is over to maintain your practice.
Each video presentation will be followed by a Q&A session with Master Gu — a favorite feature! The Q&A invites students to communicate with this renowned master and to receive support for incorporating these teachings into their personal practice.
Practice Component: The deep benefits of Qigong come from practicing the sounds, movements and meditations yourself, so you can feel and experience their transformative effects. Each weekly session will help you to develop a practice of your own.
Qigong for a Happy Heart is appropriate for all ages and abilities and does not require special clothing or exercise equipment. If you are unable to attend live, you'll receive class recordings, transcripts and supplemental materials so you can still experience the full benefits of the program.
Master Gu will be live on the course calls as often as possible; however, it may be necessary to pre-record up to two sessions due to his international travel and retreat schedule.
Module 1: Why Is the Happy Heart in Qigong Essential to Joy & Health? (June 20)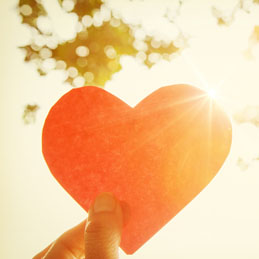 What is your true potential for happiness? In this first module, we'll explore how to connect with our feelings and how to release the energy blockages that are disrupting our chances for joy and wellness. We'll introduce the "inner smile" practice to begin our journey into awakening a happy heart and to intentionally release old patterns in how we respond to stress, illness, pain, irritation and disappointment. We'll explore the steps in Wisdom Healing Qigong to heal the whole self: mind, body, heart and spirit.
In this module, you'll discover:
The definition of energy, a.k.a. qi or chi
How you can cultivate more joy in life through Wisdom Healing Qigong
Why Qigong happiness is defined by the wellbeing of mind, body, heart and spirit
How to start a meaningful Qigong practice to elevate mood and set a positive tone for the day
How a happy heart can change how we heal chronic illness or injury
Guided Practice:
Inner Smile meditation to open the capacity of your heart to healing and joy
Module 2: Cultivating the Happy Heart in the Physical Body (June 27)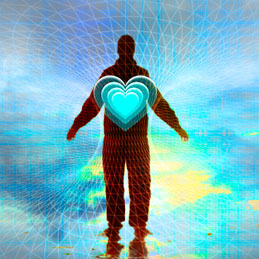 We'll explore the Qigong perspective on the role of energy in our physical body with regard to awakening a happy heart. We'll see what happens within our body and brain when we feel negative emotions, and how this contraction opens us to illness, injury and premature aging. We'll establish how Qigong helps us reconnect our mind-body, release tension, and bring joy into our movements as we progressively build flexibility, strength, posture and grace.
In this module, you'll discover:
How you can experience the flow of chi in your physical body to deepen your Qigong practice
The role of postural wellbeing in daily life
What happens in the body and brain from stress and worry
Why open, flowing energy within the spine, muscles and organs is so important
How to start a personal practice of Qigong movement, sound and meditation
The movement, sound and meditation components you need to begin a home Happy Heart practice
Guided Practice:
Qigong to release tension and activate energy flow to your organs and body
Module 3: Inviting Joy in Our Mind's Thoughts & Intentions (July 11)
We'll explore the role of the mind and consciousness as we engage in our Qigong practice. As we cultivate mindfulness and let go of old habits, we can change how we react to stress and challenges. We'll examine the role of visualization in awakening an attentive mind, revealing new possibilities of joyful thoughts, self-reflection and commitment.
In this module, you'll discover:
The role of energy in mental focus and consciousness
The role of the mind's intention in deepening your Qigong practice
How to discover your hidden potential for creativity and mental focus
The role of visualization in unlocking hidden resources within
How to focus a distracted mind
Guided Practices:
Qigong movement to open your shoulders and chest to release tension
Visualization exercise to expand creativity
Module 4: Accepting Our Open Heart (July 18) (Pre-recorded)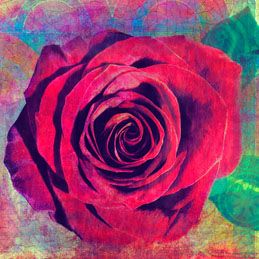 Healing the emotional self is deeply essential to opening the heart, so we're devoting two modules to the topic. How many emotions that bring us stress or pain do we continually get seduced by and re-invite into our heart? When we are feeling challenged by worries, the heart energetically contracts. We'll delve into experiencing Qigong movement and sound on an emotional level to allow the opening, accepting and healing of our emotions on the conscious and unconscious levels.
In this module, you'll discover:
The three A's: Acceptance, Activation and Appreciation
The power of your emotional self in finding joy and commitment in your Qigong practice
How to respond to stress in a healthy and positive way
The benefit of transforming anger into joy
Ancient healing sounds for releasing energy blockages
Guided Practice:
Healing sounds for your heart to activate love and joy
Module 5: Transforming Stress to Awaken Emotional Wellbeing (July 25)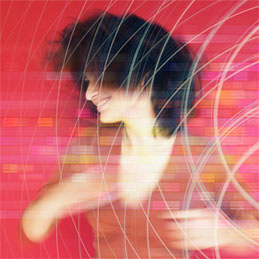 We'll delve further into the teachings that open our heart's capacity to respond to stress, grief and disappointment in new, healthier ways. Through our Qigong practice we can learn how to heal from the stories of our life, so that our heart is open and resilient again. Because everything in life is connected, we can't simply throw a feeling of stress and anxiety away. Instead we'll transform it through healing Qigong sounds so it doesn't negatively affect our body or mind, or dampen our ability to feel joy.
In this module, you'll discover:
The role of stories in your past challenges and illnesses, and how to let them go
How to transform the emotional energy of stress and worry into compassion
How your reaction to stress can limit your ability to feel joy
How to expand your potential for happiness
How to recognize negative emotions and how to create healthier patterns
How to release attachments to disappointment and grief
Guided Practice:
Healing sounds for your lung system to transform grief into compassion, sympathy and deep knowing
Module 6: Connecting With the Compassion of Our Spiritual Self (August 1)
We'll explore the deep value of fostering a happy heart on a spiritual level. Within each of us is a deep wisdom and connection with all of life that we can learn to cultivate, allowing us to contribute healing joy to ourselves and to all beings. Through these teachings we awaken our awareness of chi, especially in times of stress and challenge. We'll also engage in visualization teachings that help us illuminate our smiling heart and share it with the world.
In this module, you'll discover:
How to invite spiritual awareness to deepen and sustain your Qigong practice
How to access the abundant energy of the chi field through depression and illness
The "Yes, and…" teaching
How to access the wisdom of the universe
How to amplify your inner smile to heal our world
How to deepen your relationship to your community and our world
How to include the chi field meditation in your daily practice
Guided Practices:
Chi field meditation to open and connect with the energy of life
Qigong to release blockages in arms and shoulders, and connect with universal energy
Module 7: Wisdom Tools for Integrating Happiness in Mind, Body, Heart & Spirit (August 8)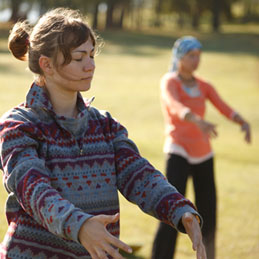 We'll explore how to focus the daily Qigong practice on wholeness — gathering together into each movement and sound the benefits of body, mind, heart and spirit. These teachings will help us integrate our lessons of body, mind, heart and spirit for deeper benefits. We'll explore how energy resides in any given moment, so that we can tap into it when we feel depleted.
In this module, you'll discover:
The essential teachings of how to integrate a Qigong practice in body, mind, heart and spirit
How to transform your stories to cultivate true happiness for daily living
Next steps for deepening your practice and for nourishing a happy heart
The role of community and caring for others
Guided Practice:
Guidance in fully integrating the Happy Heart practice of body, heart, mind, spirit for deeper and continuing practice